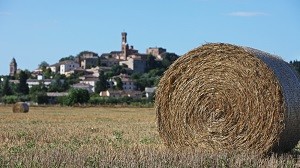 A few kilometers from Savignano, towards Rimini,
Santarcangelo di Romagna
is one of the most fascinating and suggestive places of Romagna. Of Roman origin, the town grew in the middle ages on
monte Giove
, a sandstone hill that rises in the middle of the plain. The beauty of Santarcangelo lies not only on the surface, in the narrow streets that wind through the ancient parish churches, historic buildings and the homes of poets and artists, but also underground, in tunnels dug into sandstone – and today appointed – in which for centuries were stored the barrels with the sangiovese wine and foodstuffs, thanks to the constant temperature of 12 degrees. For accuracy are 152 the hypogeums which run under the Hill of Santarcangelo, for a total of 6 kilometres of tunnels. Another version wants them like tunnels dug by Christians fleeing from Roman times, or mysterious places for strange rites. Today it is possible to visit those tunnels, especially in summer, when the inhabitants of the village open and bring them into view, proud, for tourists and visitors.
The entrance of the city is piazza Ganganelli, in the lower, flat. The triumphal arch dedicated to Pope Clement XIV, born in 1705, it almost seems the gateway of the city. From here we begin to rise to the top of the Hill, down the steps leading up to the big Bell, the great tower overlooking the entire Valley of Marecchia River Rimini. Climbing through long arcades, small squares and unexpected belvedere where you can enjoy really evocative glimpses. At the top you can continue until you come to the Malatesta fortress.
Outside the town, a visit to the beautiful and ancient Parish Church of San Michele Archangel, founded in the sixth century and is still fascinating for its austerity and simplicity, despite some remodeling.
Santarcangelo is also home to several interesting museums: the MUSAS (historical and Archaeological Museum), which houses the archaeological and historical heritage of the city and of the territory; The MET (Ethnographic Museum) which gathers the testimonies and the uses, customs and traditions of the people of Romagna; and a curious Button Museum with a collection of 10,500 buttons from all parts of the world divided into three sections: history of 1900, 1700-1800 buttons and curiosities from the world. The museum tour allows you to discover a small but fascinating story, and watch world events from a definitely original point of view.
In addition to his buildings, Santarcangelo is famous for its illustrious personalities that gave birth, including: the comedians Fabio De Luigi and Daniele Luttazzi, writer, artist and friend of Fellini, Tonino Guerra and the poet Raffaele Baldini. Tonino Guerra has left numerous traces of his work throughout the country. The fountain of Tonino Guerra, conceived by writer, stands at the entrance to the City Park area of the fair, and is made up of two fountains: the sunken lawn and stone flowers. Within the town there are other fountains created by Guerra's wit.