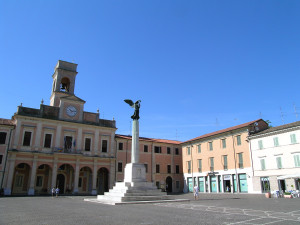 Savignano sul Rubicone is a delightful village of Romagna, of Roman origins, in the province of Forlì-Cesena. Located half way from the Adriatic coast and rolling hills typical of the Romagna hinterland, the city is famous for the historic step of Julius Caesar who, in his March to Rome, made by the famous phrase "Alea Iacta Est", meaning the figure is drawn.
To see
The ancient Romans built here the symbol of Savignano, the romanic bridge sul Rubicone, dated to the first century probably. BC three large arches of Istrian stone resting on two central pillars. Is 24 meters long, 6 meters wide and 8 meters high. On special occasions, the colored lights illuminate, transforming Savignano in a small village.
Ribano Castle is located further South on the Hill of Ribano. It is a medieval fortified dwelling dating back to the 12th century. Over the years it passed to the Church which transformed him into the monastery dependency of Ravenna. With the arrival of the French in Italy was requirement and everything that was inside (goods, statues, books, paintings) seized and sold to private individuals. Today it is the seat of an important company.
The Filopatridi Academy is a historic building that dates back to 1800. It was founded by a group of writers including Bartolomeo Borghesi and Giulio Perticari, who built a Center for the study of poetry, literature, natural science and numismatics. Don't miss the library with over 60,000 volumes, sixteenth and forty-nine editions bodoniane.
The Monte di Pietà was founded in 1551 by a certain Rissini that Stephen to death bequeathed the land for construction. Over time the building has had several owners. Today it has been restored and returned to former glory. In the spirit of the monte sugellare is the inscription on the lintel "Sacer Mons Pietatis"
Hotel Cesare is a great starting point to visit Savignano sul Rubicone, the citycenter is just a few minutes walking from the hotel. 
Contact us for further information and book your hotel room!